In San Jose, amidst the innovation of Silicon Valley and the beauty of some of California's best gardens and parks, there has been a disturbing rise in domestic violence. As law enforcement and the legislature scramble to combat the increase of domestic violence crimes in San Jose, some defendants are being falsely convicted or face much harsher penalties than if their same actions were charged under ordinary criminal statutes.
San Jose's Rising Domestic Violence Rate
The number of domestic violence-related calls to the San Jose Police Department rose from 2,982 in 2008 to 3,898 in 2017. In February 2018, the San Jose Police Department Family Violence Unit reported a staggering 7,500 domestic violence cases in the last fiscal year. From January to June 2017, the breakdown of the types of domestic violence cases were:
1,624 total cases (1,454 resulted in criminal filings)
298 domestic battery (misdemeanor)
721 minor injury
121 serious bodily injury or use of a weapon
484 restraining order violations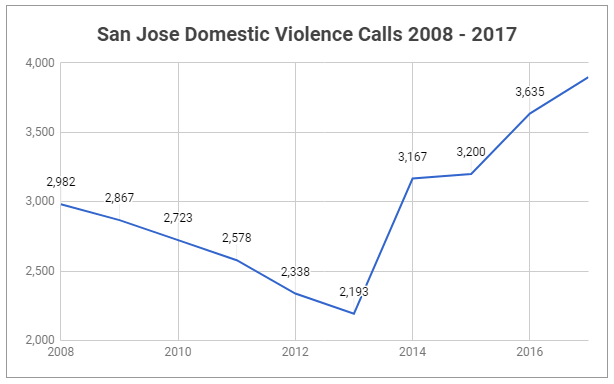 The increase in domestic violence isn't isolated to just San Jose however; the Santa Clara District Attorney's office reports that instances of domestic violence are rising throughout Santa Clara county. From January to December 2017, Santa Clara county experienced the following deadly domestic violence occurrences:
10 separate incidents that resulted in death
14 total deaths, including 9 victims
11 shootings, 2 stabbings, 1 beating
9 of 10 attackers were men
Unfortunately, the statistics from San Jose and Santa Clara county reflect a nationwide epidemic of domestic violence: according to a 2017 CDC report, homicide is the leading killer of women under 44 years of age, with nearly half of those homicides being committed by a current or former intimate partner.
Understanding Domestic Violence and California's Domestic Violence Laws
Typically, domestic violence cases involve a spouse or significant other; however, a charge for domestic violence can occur whenever a crime is committed against someone who is closely related to the perpetrator. Types of domestic relationships that satisfy the statutory requirement include:
Spouses or ex-spouses
Parents of a child
Individuals who are engaged or dating, or used to be
Cohabitants (two adults who have lived together for a substantial period of time, resulting in some permanency of a relationship)
Proving that the individuals at issue fall into one of the first three categories is relatively simple; defining who qualifies as a "cohabitant" however, can lead to false convictions for domestic violence when a true domestic relationship may not exist.
While domestic violence can take many forms, common criminal domestic violence convictions include:
Domestic battery
Inflicting injury on a spouse, etc.
Child endangerment
Criminal threats
Stalking
Elder abuse
Violation of a restraining order
False imprisonment
Kidnapping
Deprivation of child custody order
Specifically, California law broadly defines abuse as "intentionally or recklessly causing or attempting to cause bodily injury or placing another person in reasonable apprehension of imminent serious bodily injury to himself or herself, or another." Domestic violence is more narrowly defined: "abuse committed against an adult or a minor who is a spouse, former spouse, cohabitant, former cohabitant, or person with whom the suspect has had a child or is having or has had a dating or engagement relationship."
To be convicted of a domestic violence charge in San Jose and throughout California, the state requires both that the perpetrator's actions constituted abuse and that there was a qualifying relationship between the perpetrator and the victim.
Defending Against a Domestic Violence Charge in San Jose
With domestic violence being such a large factor in the deaths of women, it's understandable that California's lawmakers wanted special legislation to protect victims.
Unfortunately, the state's criminal statutes are both extremely broad and carry severe penalties for those convicted; in addition to false convictions, some defendants might face harsher punishments under the domestic violence law than if the same actions were charged under normal criminal statutes.
Also, certain nuances in the police department's "Guidelines for Law Enforcement Response to Domestic Violence" require that the responding officer, once called to the scene, should not consider whether one or both parties no longer wishes to press charges. Although designed to prevent victims from being menaced into not pressing charges by their abuser, in practice some calls are made mistakenly or "in the heat of the moment" and once the police arrive, there's no way to prevent criminal charges from being filed.
If you are facing a domestic violence charge in San Jose, there are defenses that a criminal defense attorney can raise on your behalf in court: whether your actions fail to qualify as abuse under California law, the relationship between yourself and the alleged victim is not a statutory domestic relationship, you acted in self-defense, or for another reason, a good California criminal defense attorney can help protect you from the severe penalties of a conviction.
San Jose's Leading Domestic Violence Defense Attorneys, Summit Defense
Being convicted of domestic violence can destroy your life, sabotage your future, and in cases involving immigrants can even lead to deportation. Penalties associated with domestic violence convictions in California include:
Thousands of dollars in fines
Imprisonment
Permanent criminal record
Probation
Deportation
With such severe consequences, it is imperative that if you are accused of a domestic violence crime in San Jose you contact an experienced domestic violence attorney immediately. At Summit Defense, we are dedicated to protecting your rights and your freedom: to find out more about how we can help defend against a domestic violence charge in San Jose or elsewhere in California, contact our office today at (408) 333-9622.