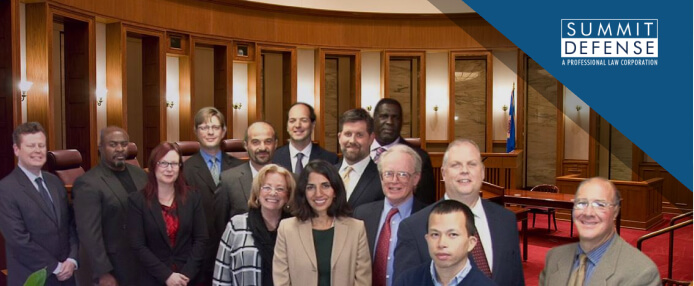 REDWOOD CITY CRIMINAL DEFENSE ATTORNEY
If you've been accused of a misdemeanor or a serious felony – whether in Alameda or Contra Costa county – an Oakland criminal defense attorney can help. At Summit Defense, our goal is always the complete dismissal of all charges. If this isn't possible, we often negotiate solutions for our clients that allow them to avoid jail and sometimes even prosecution.
SPEAK TO A TEAM OF DEVOTED & RELIABLE CRIMINAL DEFENSE ATTORNEYS IN REDWOOD CITY
Suppose you or a loved one is being accused of criminal charges in Redwood City, CA or San Mateo County. In that case, you're going to need the support of an experienced Redwood City criminal defense attorney.
Criminal law is always very complicated no matter what crime you're dealing with, so you'll need to rely upon a law firm that has a good reputation throughout the entire San Francisco Bay Area to ensure your most favorable outcome. Summit Defense provides comprehensive criminal defense services through our team of highly experienced defense attorneys. We'll protect your legal rights while helping you avoid a conviction or jail time, and we'll also help you expunge a crime from your criminal record when necessary.
We're here to help you and your family during difficult times, and we're confident that we're the best law office in Redwood City, CA to support your defense efforts against any criminal offense. Below we'll be providing a comprehensive overview of how we can support you and your legal proceedings, and always feel free to reach out to us online or call us at 1-866-847-7613 to speak with our criminal defense lawyers and obtain a free consultation today.
DEFENDING AGAINST ALL REDWOOD CRIMINAL DEFENSE CHARGES
One of the many reasons why Summit Defense is a top-rated criminal defense firm in Redwood City CA and all of Northern California is because our team provides comprehensive criminal defense services. This means that we can support you or your loved one no matter what criminal charges are involved in your unique situation.
Some of the common crimes that our firm supports our clients with include the following:
Assault
Petty theft
Grand theft
Reckless driving
Identity theft
Misdemeanor cases
Felony cases
Animal abuse
Battery on a law enforcement officer
Battery causing serious bodily injury
Child pornography
Child molestation
Embezzlement
Federal cases
Expungement
Indecent exposure
Hit and run
Marijuana law
Probation violation
Prostitution and massage parlors
Professional and small business licensing
Rape
Resisting arrest
Registration of sex offenders
Solicitation
Theft Shoplifting
And much more…
When you're possibly going to court for any of the above crimes, it'll be absolutely critical that you avoid a conviction. We support individuals accused of a whole array of different criminal charges, and we'll do whatever it takes to achieve a complete dismissal.
OUR APPROACH TO CRIMINAL DEFENSE
While we fully understand how important it is for criminal defense lawyers to be able to successfully stand their ground in court, we also know that artful negotiation is an effective defense for countless clients. Defense attorneys can win these intricate battles through facts and a thorough understanding of a case's circumstances.
Although a defense attorney and district attorney are adversaries within the criminal law system, this doesn't mean that integrity and being honorable are precluded during negotiations. Summit Defense has developed a well-deserved reputation throughout Redwood City CA, San Francisco, and San Mateo County for the mutual respect and civility that we utilize within our legal strategies.
When you're accused of a crime, so much more can be accomplished through our commitment to this approach. The following are some of the most important factors oriented around how we approach criminal defense:
Relationships: With over 120+ years of collective experience and countless relationships throughout the Redwood City CA court system, Summit Defense knows how to effectively promote our clients' best interests. This is because we've cultivated many valuable working relationships and know the right people to reach out to within any given scenario. It takes many years to develop the level of respect that our law firm has within San Mateo County, and we'll ensure that you reap the benefits of our industry relationships.
Pleas: The entire concept of a "plea deal" can be somewhat misleading, because this term implies that an accused individual is attempting to receive a less serious punishment to avoid conviction for crimes. The reality of a plea deal is that an individual is taking responsibility within their local court system and that this honesty means a lot. Our criminal lawyers will help present the full picture of your situation to the Court and prosecution so you're given the full credit that you deserve for your honesty.
Negotiation: Although we'll always negotiate with integrity and honor, this doesn't mean that we won't act out strategically. Our approach to negotiations is to be tactful, while at the same time reasonable. We'll be sure to come fully prepared for any possible contingency, and our first and foremost concerns are the interests of our clients. We'll never back down when it comes to protecting your legal rights and ensuring your most favorable outcome, and that's a guarantee!
Litigation: If your case must go to court within a criminal trial, we'll be ready to step up and ensure top-quality legal representation. We have decades of experience in criminal trials, so we know exactly how valuable crafted examinations and submissions can be. We know which legal issues are the most important, and how the rules of evidence can be utilized in your favor. So if your case requires court litigation, you can rest assured that you're in good hands with our firm.
BENEFITS OF WORKING WITH US
There are many different benefits of working with our law firm in Redwood City CA, and the following benefits of hiring us as your criminal defense attorney are important to keep in mind:
Experience: Several of our attorneys were district attorneys and public defenders in the past, so we have ample experience in understanding both sides of criminal law. No matter what crime you've been accused of, our attorneys will be able to support you through every step of these complex legal processes.
Hablamos Espanol: We serve countless clients that are predominately Spanish-speaking, and we're very proud to have a multicultural team.
Client-Focused: Our primary concerns are always linked to what our clients need from us, so your needs will dictate each and every one of our decisions as we're developing your best course for legal action.
Dedication: There's no denying that criminal cases can become more and more complex as court proceedings pick up and the risks of conviction rise, but we'll never give up on you and your legal situation no matter how difficult things become.
COMMON QUESTIONS ABOUT CRIMINAL DEFENSE IN CALIFORNIA
We fully understand how your search for a Redwood City criminal defense lawyer can be rather stressful after you or a loved one has gone through an arrest, and it's perfectly normal to have questions about a criminal defense attorney when you're first getting started with your legal proceedings.
Below are some common questions that we get from our clients that are facing both felony and misdemeanor circumstances:
DO I HAVE TO ANSWER POLICE QUESTIONS?
You will be forced to provide basic information to police officers when you're being questioned, primarily information oriented around your identity. However, your responsibility to answer police questions during an interrogation or while under arrest is different due to your Constitutional rights. Your right to remain silent and retain legal counsel prior to answering questions from law enforcement is legitimate in Redwood City CA and the entirety of the United States.
So although you are legally obligated to provide police officers with your identity, you can also contact our law firm prior to answering more interrogative questions.
I HAVE A WARRANT FOR MY ARREST IN CALIFORNIA. WHAT SHOULD I DO?
When you have a warrant out for your arrest in California, you should always reach out to an experienced criminal defense attorney to go over the details of your charges and warrant. This can also entail a complete case evaluation that will allow you and your lawyer to develop the best strategy for your future.
Your attorney will help you better understand your legal rights and what your best course of legal action is, and we'll also help you to officially inform the court that you have obtained legal counsel.
CAN A GOOD LAWYER GET YOU OUT OF ANYTHING?
This depends upon a whole variety of unique factors oriented around your case. It's possible to discredit a district attorney's witnesses and any evidence that's been established against you, and doing so will likely result in you avoiding a conviction.
We've helped countless clients obtain an acquittal or have their charges dropped, and sometimes this will be due to illegally obtained evidence and other technical rules that aren't admissible in court.
Jury nullification is another possibility that occurs when a jury finds a defendant not guilty even though there is evidence beyond a reasonable doubt that the defendant is guilty of breaking the law. This type of scenario typically occurs when a lawyer makes their client look sympathetic enough that a jury finds them not guilty and essentially "nullifies" the law.
SHOULD I TAKE A PLEA BARGAIN IF THE PROSECUTOR OFFERS ONE?
It's always in your best interest to speak with a criminal defense attorney prior to accepting a plea bargain from a prosecutor. This will help you ensure that your legal rights are being fully upheld, and you'll also learn how the agreement will affect you and your livelihood in the future.
CONTACT OUR REDWOOD CITY CRIMINAL DEFENSE LAWYER FOR A FREE CASE REVIEW
At Summit Defense, we're fully dedicated to supporting our clients in Redwood City CA, and San Mateo County when they're going through tough times. Our track record speaks for itself in terms of how successful we've been in the past, so we're more than confident that you can put your trust in us when you and your family are going through a stressful criminal law situation.
No matter how bad your unique situation may seem, we'll be sure to explore every angle and obtain your most favorable outcome. Contact us online or call us at 1-866-847-7613 to get a free consultation today.
Driving Directions to our Redwood City Law Office

From Redwood Shores (North)

From East Palo Alto (East)

From Downtown Menlo Park (South)

From Edgewood Park (West)