These are the Most Searched True Crime Documentaries in Every State
There are new true crime documentaries premiering on networks like Netflix, HBO, and Hulu all the time. Documentaries like 'Making a Murderer' and 'Abducted in Plain Sight' have viewers buzzing. We all have our own opinions on who really killed Teresa Halbach or why Jan Broberg parents continued to let her see Robert Berchtold, but the point is, these documentaries have people discussing the details of the cases and googling facts to determine their opinion on who's actually guilty in these cases.
As criminal defense attorneys, we find all these documentaries and cases fascinating. So much so that we decided to take a look at Google search history in the U.S. over the past 12 months to see which true crime documentary was the favorite in each state. We gathered and analyzed the results and here is what we found: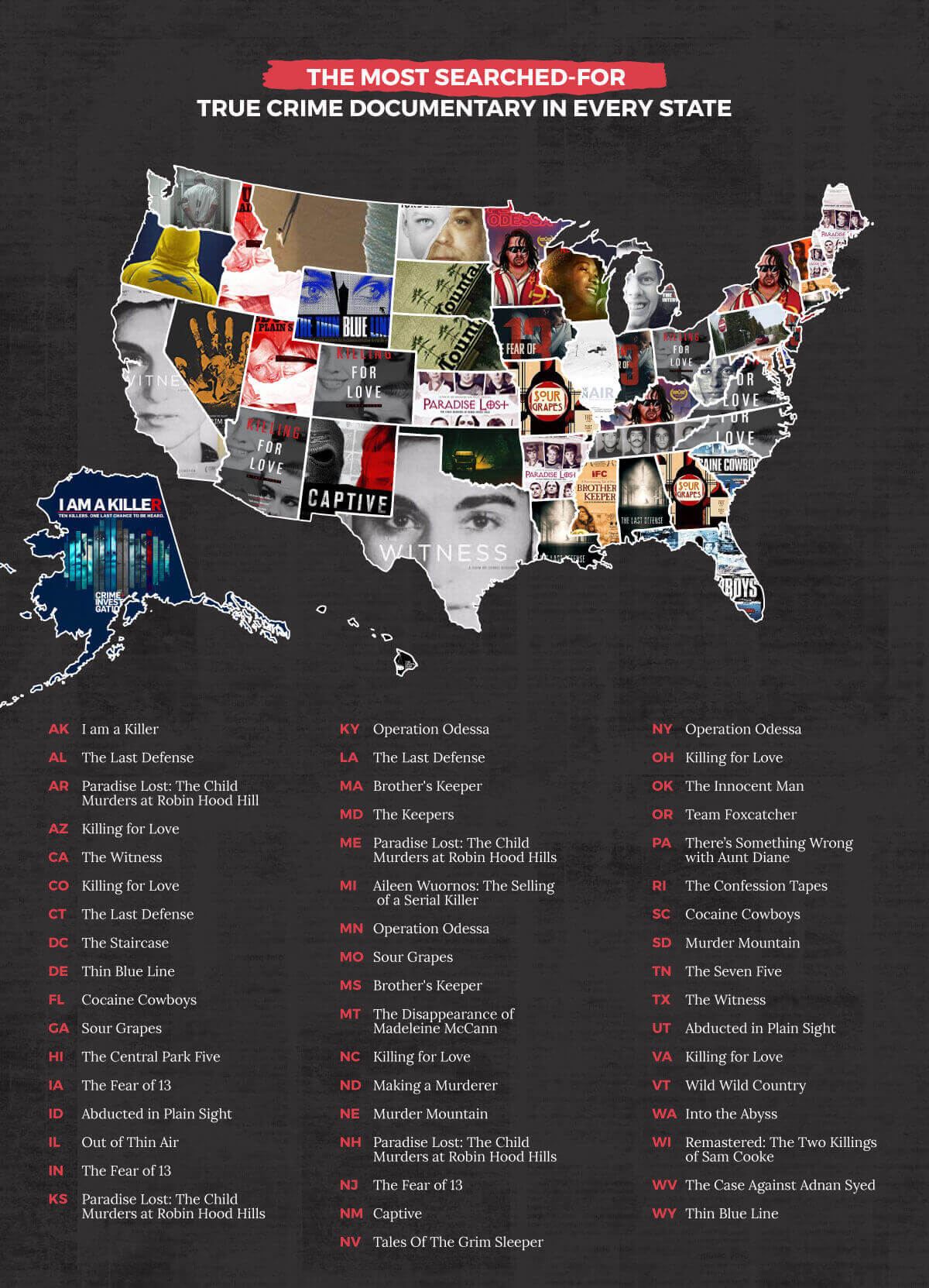 Since the crime took place in Idaho, we weren't too surprised to see that 'Abducted in Plain Sight' was the most searched true crime documentary in Idaho. Something that took us by surprise was Wisconsin's top search. We all know 'Making a Murderer' took place in Manitowoc County, Wisconsin, but the people of Wisconsin are more interested in 'Remastered: The Two Killings of Sam Cooke.' This Netflix original documentary series explores the mystery behind the murder of soul singer and civil rights activist Sam Cooke who died from a gunshot wound in 1964.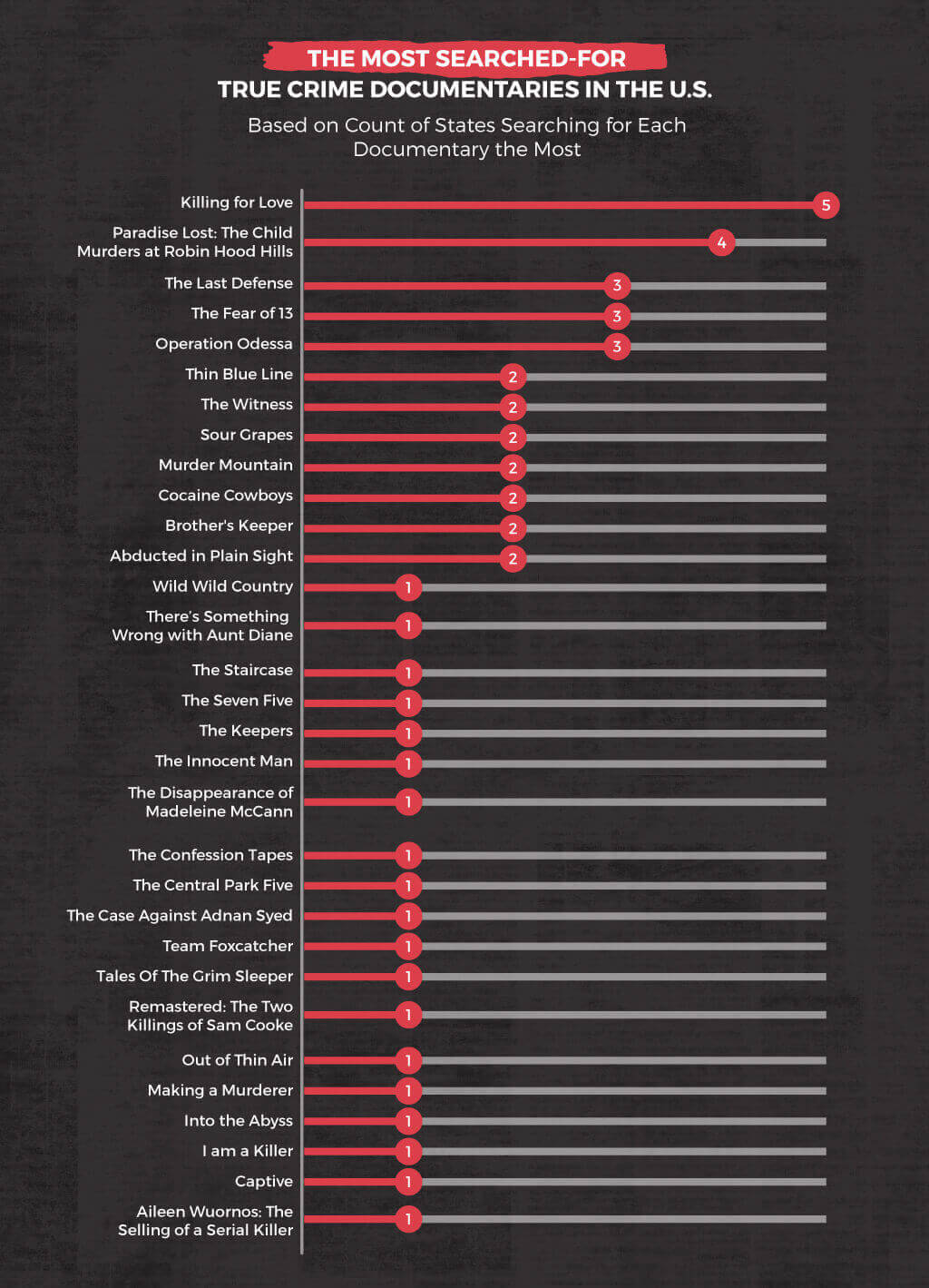 The documentary that has the most states watching is 'Killing for Love' with five states searching for its title more than any other crime documentary. Not far behind 'Killing for Love' was 'Paradise Lost: The Child Murders at Robin Hood Hills' with four states searching it the most. The rest of the documentaries trailed behind, winning over three, two, or one states.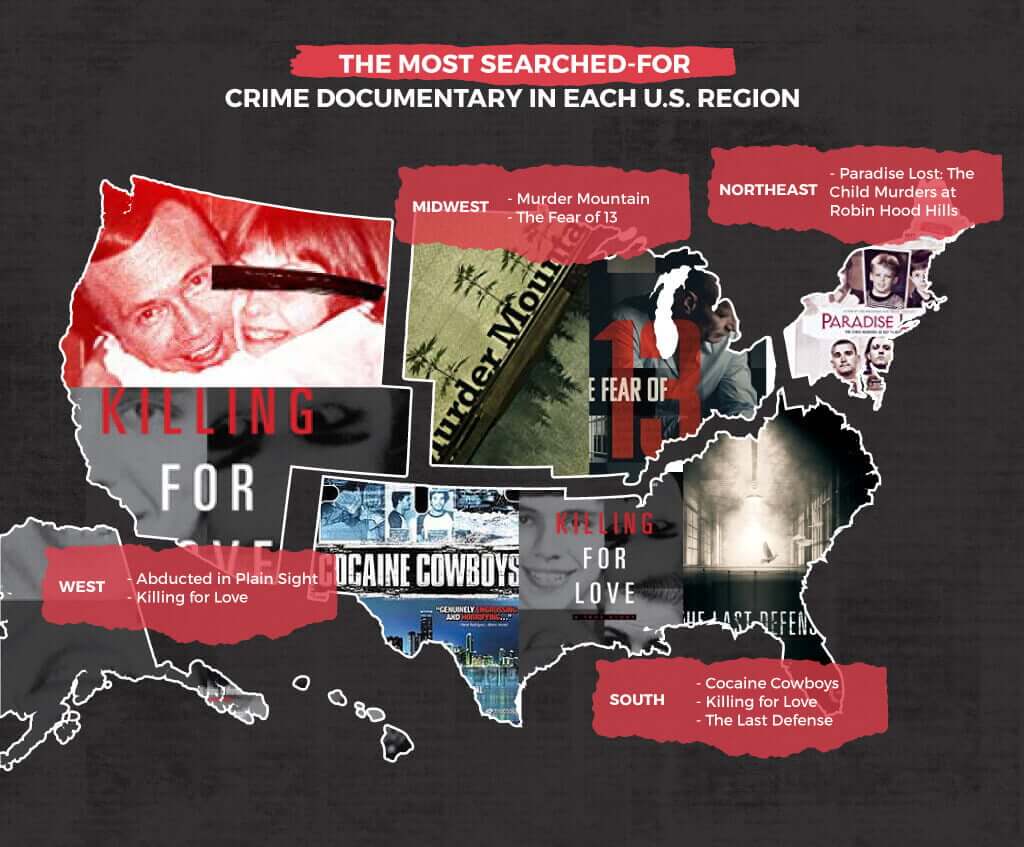 When looking at the most searched crime documentary by region, the Midwest loved 'Murder Mountain' and 'Fear of the 13' while the South was really feeling 'Cocaine Cowboys,' 'The Last Defense,' and 'Killing for Love.' All of the Northeast agreed that 'Paradise Lost: The Child Murders at Robin Hood Hills' was the best and the West was googling 'Abducted in Plain Sight' and 'Killing for Love' most often.
True crime documentaries are addicting and can turn us all into temporary cops, lawyers, and crime experts. But when you are in need of a true expert, Summit Defense has over 120 years of criminal defense experience. Learn more about our services and our criminal process today.