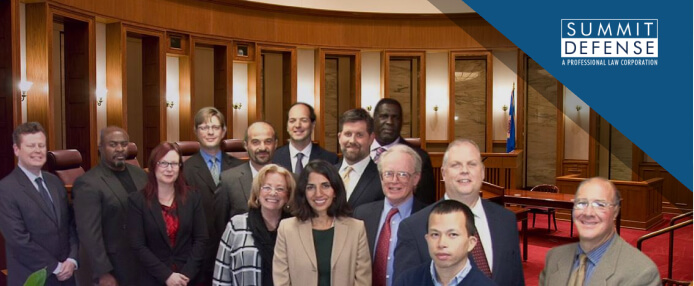 CONTACT A TEAM OF EXPERIENCED SACRAMENTO CRIMINAL DEFENSE ATTORNEYS TODAY
There's no denying that being arrested for a crime is a rather alarming experience, and even temporarily having your freedoms taken away will make you want high-quality legal advice. Suppose you've been arrested for any crime in the Sacramento area. In that case, you're going to need to hire an experienced Sacramento criminal defense attorney to have your charges reduced or avoid jail time.
Summit Defense is a top criminal defense law firm based in Northern California that has supported countless individuals facing criminal offenses, and our legal services will support you through both state and federal courts as we do whatever is necessary to clear your criminal record to the fullest extent within the parameters of criminal defense law.
Our law office is always here for you or your loved one as you're going through these stressful criminal law proceedings. Below, we'll be detailing a comprehensive overview of everything you need to know about how we'll perform our duties as your criminal defense lawyer.
Contact us online or call us at 1-866-903-3141 to get in touch with a defense attorney today during your free consultation.
SACRAMENTO CRIMINAL CASES OUR DEFENSE LAW FIRM HANDLES
Our criminal defense lawyers in Sacramento, CA provide all sorts of legal representation oriented within criminal defense law, and some of the more common crimes we defend include the following criminal offenses:
Federal crimes
Serious felonies
White-collar crimes
Fraud
Animal abuse
Assaults
Child molestation/pornography
Battery on a police officer/Battery that causes bodily injury
Grand theft
Hit and run
Marijuana law
Indecent exposure
Probation violation
Resisting arrest
Rape
Registration of sex offenders
Professional and small business licensing
And much, much more…
Our experienced legal team and criminal defense attorneys will support you throughout any criminal investigations conducted by law enforcement. You can rest assured of our law firm's past success in many criminal cases. We practice law to support individuals in need of legal services, and we'll guide you through a plea agreement and do whatever is necessary to have your charges reduced when it's an appropriate strategy.
And when it's viable, we'll do whatever it takes to have your case dismissed!
WHAT YOUR SACRAMENTO CRIMINAL LAWYER WILL DO FOR YOU
Your Sacramento criminal defense lawyer will work tirelessly to keep you or your loved one out of jail. Our defense attorneys will also ensure that your legal rights are fully upheld and not violated. We understand how our legal representation can be the difference between winning and losing a criminal case, so we'll fight for you to ensure that you avoid jail and, at the very least, have your charges reduced.
Below is a comprehensive list-oriented around what our Sacramento criminal defense attorneys will do for you or your loved one:
Fully investigate your criminal case starting during your free consultation. This will include obtaining all relevant evidence, collecting police reports, interviewing witnesses, and collecting other forms of evidence like affidavits from a former police officer.
Utilize all of the collected evidence to develop your best course for legal action, dependent upon your unique circumstances.
We'll then discuss your criminal case directly with you and your family to get your input on negotiating a plea agreement with Sacramento, CA prosecutors or formulating a plan for jury trials. This legal advice will ultimately formulate your overall legal strategy, and it's an important step within the attorney-client relationship.
Your defense attorney will continue to provide you with legal advice as we participate in criminal investigations and your preliminary hearing. Our law offices are full of super lawyers that can potentially get your case dismissed or your charges reduced early on within these stages of the criminal law process. Our specialists will be there for you through every step, no matter what is necessary for your unique scenario.
Your criminal attorney will also do whatever is necessary to throw unfair/damaging evidence out, which is more common in Northern California than most people facing a criminal offense would assume.
Your Sacramento criminal defense attorney will also support you through plea agreement negotiations with a police officer or local prosecutor, which can reduce your criminal charges and potentially leave you with a minor penalty like community service instead of jail time.
When you're innocent of the crimes you've been accused of, we'll be there for you to defend you throughout jury trials and get your case dismissed.
WHAT SHOULD I LOOK FOR WHEN HIRING A CRIMINAL DEFENSE ATTORNEY?
There, of course, are many different factors that you should look for when you're in the process of hiring a criminal defense law firm in Sacramento, CA, and some of the most important considerations to keep in mind include the following:
Location. Your defense attorney should be licensed in California and have experience helping past clients in the Northern California and Sacramento area.
Legal Concentration. Although countless criminal defense lawyers take on a whole variety of criminal charges, there are many that specialize within specific niches of criminal defense law. These legal concentrations can include DUI cases, felony cases, white-collar crimes, sexual offenses, and much more. It's always a good idea to work with a legal team that concentrates explicitly on the charges you or your loved one is currently facing. It will clearly indicate that they have the necessary amount of experience to provide you with a favorable outcome.
Personal/Firm Qualities. There are many unique qualities found within every criminal defense law firm, so it'll ultimately be up to you in terms of what type of law office you feel most comfortable hiring for your legal services. What's great about working with Summit Defense is that we're not too big, and we're not too small, and our team of criminal law experts will be able to provide your case with the attention it undoubtedly deserves.
Reputation. The reputation of a criminal defense lawyer or law firm is always a serious consideration. You can check out our client reviews to get a better glimpse into what our past clients have said about us, and you can also go through the many Yelp reviews that we've accrued over the years.
Legal Fees. The overall cost of your private attorney is a major aspect of any attorney-client relationship, and you should always make sure that your expenses are 100% transparent and that you ultimately know what you're going to pay. Attorney fees can vary depending upon various factors, so working with a law office that maintains transparency in terms of legal fees is always a big thing to be on the lookout for.
Private Attorney or Public Defender. There are certain situations in which an eligible individual will be granted access to a public defender. Still, it's essential to understand that these government officials are extremely busy in the Sacramento area and all of California. They'll likely not provide your case with the attention that it needs. Hiring a private attorney from Summit Defense will provide you with the expertise and attention to detail to obtain your most favorable outcome.
WHAT TO DO AFTER A SACRAMENTO COUNTY ARREST
Below we'll be going over a few essential tips to keep in mind in the moments after your arrest in Sacramento, California. These tips are essential for a variety of reasons. In general, it's crucial to understand how aggressive/disrespectful actions towards a police officer will only complicate the police report and make matters worse for you.
Inappropriate behavior after an arrest can potentially lead to more criminal charges, so your best strategy is always to be patient and calm and have a criminal lawyer in your contacts that you can call as soon as possible.
REMAIN QUIET
Being quiet is one of the most important things you can do during an arrest, and it's simply important to remember that you're never going to talk your way out of these situations. What you say can be used against you in a court of law, so being quiet is your best strategy for not complicating your case.
Once you've been transported to a jail or police station, you can call your criminal defense lawyer. The Summit Defense legal team will then take over from this moment and properly ensure that everything is done to obtain your best legal outcome.
CALL EXPERIENCED SACRAMENTO CRIMINAL DEFENSE LAWYERS
Once you've reached out to your Sacramento criminal defense attorneys, they'll advise you on how you should approach the next steps of your legal proceedings. If bail is possible for your criminal charge, your legal team will help you understand what you can expect from this process.
Suppose you must stay in jail until your arraignment. In that case, your attorney will help you understand what this timeline will entail and provide you with more strategic information oriented to your unique circumstances. Navigating criminal law towards a favorable outcome is a lot easier said than done. You should always have criminal defense lawyers supporting you as quickly as possible after your arrest.
ONLY SPEAK WITH YOUR LAWYER
Once you have an experienced criminal defense attorney on your side, you should only speak about your alleged crimes and criminal charges with your legal representatives. Criminal charges are always very complicated, no matter if you're facing serious felonies or a misdemeanor charge.
You'll need to avoid any inadvertent, incriminating comments made to law enforcement officers and prosecutors, so leaving the talking up to your attorney is your best option no matter what charges you're dealing with.
CONTACT OUR SACRAMENTO CRIMINAL DEFENSE LAWYERS FOR A FREE CONFIDENTIAL CONSULTATION
Summit Defense has supported countless people throughout Sacramento, San Francisco, and the entire Northern California region when defending against all sorts of criminal charges.
When you or a loved one is in legal trouble, it'll be absolutely imperative that you hire an experienced Sacramento criminal defense attorney to make these stressful situations much more manageable.
Contact us online or call us at 1-866-537-2584 to get in touch with our legal team today and schedule your free consultation today.