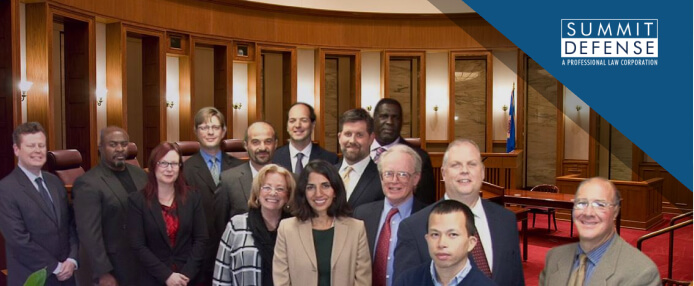 REDWOOD CITY DRUG CRIMES ATTORNEY
Drug crimes are another aspect of criminal law that carries some of California's most severe punishments. Defending yourself against wrongful drug crime accusations can be tricky due to the long list of regulations covering the use and ownership of illegal drugs. It's crucial to seek the legal assistance of a Redwood City drug crime lawyer if you are in this situation.
At Summit Defense, our Redwood City drug crimes attorney has successfully defended countless drug crimes defendants. Our proficient Redwood City drug defense lawyer reduced or dismissed our client's criminal charges. If you require the legal assistance of our top-notch criminal defense law office, contact Summit Defense now!
HOW OUR REDWOOD CITY DRUG CRIME LAWYER CAN HELP YOU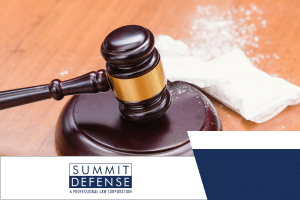 Hiring a Redwood drug crimes lawyer will help preserve your legal rights throughout the court procedure. They are well-versed in California drug laws. Furthermore, these professionals are familiar with state and federal legal systems.
A Redwood city drug possession lawyer will carefully evaluate your case and identify the best criminal defense strategy for you. They can also help you recover viable evidence to support your innocence.
The criminal justice system concerning drug charges is extensive and complex. It is critical to select a Redwood drug criminal attorney with extensive experience in drug crimes. Our committed Redwood criminal defense attorneys offer a free initial consultation and qualified legal advice.
REDWOOD CITY DRUG CHARGES AND PENALTIES
As established above, California provided numerous legislations to control the movement of illegal narcotics in the state. We compiled a shortlist of drug-related laws in California and their corresponding penalties. Read further below to have a better understanding of the local drug laws.
DRUG POSSESSION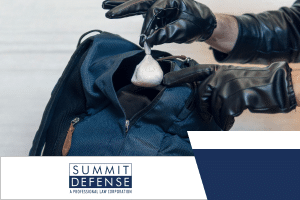 Simple possession or possession of an unlawful drug for personal use is a misdemeanor violation under California's Health and Safety Code 11350(a). Illegal possession of controlled substances such as cocaine and heroin is punishable by up to a year in county jail. In addition, incriminated defendants will face fines of up to $1,000.
Simple possession charges can escalate to felony convictions if the person has a history of sex offense convictions or any existing criminal drug charges. A criminal conviction may land you in county jail for up to three years.
DRUG POSSESSION FOR SALES
Under California's Health and Safety Code 11351, acquiring prohibited narcotics to sell is a significant offense. This law applies to both illegal street drugs and prescription-regulated medications. The law determines the intent to sell by scrutinizing the indicia of sale.
Selling illegal narcotics is a felony offense in the state. If charged with this offense, a person faces up to four years in state prison. In addition to the prison sentence, they must also pay a $20,000 penalty fee.
POSSESSION OF DRUG PARAPHERNALIA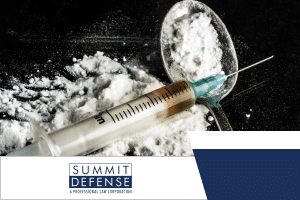 Health and Safety Code 11364 makes it illegal for defendants to possess drug use equipment. Typical drug paraphernalia includes medical syringes and drug spoons. In California, this is a misdemeanor violation. Outlaws will face up to 6 months in prison and a fine of up to $1,000.
DRUG TRAFFICKING
Drug trafficking and drug transportation are two commonly interchangeable drug crime terms. This is because they share the same statute in California, HS 11352. However, there is a fine line differentiating these two drug activities.
Drug transportation usually refers to the movement of illicit drugs within the state. In contrast, drug trafficking means transporting illegal substances across state lines or globally. Furthermore, drug trafficking has its federal statute, 21 U.S. Code § 841.
DRUG TRANSPORTATION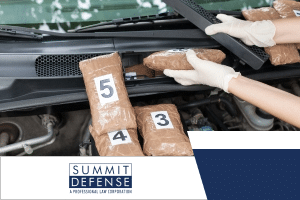 Under California's Health and Safety Code 11352, anyone who transports illegal substances commits a felony offense. Violating this law is a felony conviction in the state.
Transporting controlled or illegal drugs is a severe drug offense. In addition, violators can be imprisoned for up to 9 years and fined up to $20,000 in penalties. It is best to consult with a Redwood City criminal defense attorney to analyze your case.
MANUFACTURING A CONTROLLED SUBSTANCE
According to Health and Safety Code 11379.6, creating or manufacturing illegal compounds is a serious offense under California law. Offenders usually manufacture illicit substances such as ecstasy, heroin, cocaine, and opiates. Violation of 11379.6 HS results in a maximum sentence of three, five, or seven years in prison or detention.
POSSESSION OF DRUG MONEY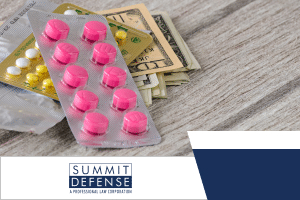 Health and Safety Code 11370.6 defines possessing drug-related money. According to this law, it is a criminal offense to own a large amount of money obtained through drug sales.
Breaching 11370.6 HS is a wobbler offense under California law. A misdemeanor crime can result in up to a year in county jail. Conversely, a felony violation is punishable by four years in the California state prison.
CULTIVATION AND SALE OF MARIJUANA
California law enables adults to produce or grow six marijuana or hashish plants for recreational purposes under HS 11358. However, exceeding this limit becomes a criminal violation. The law may be slightly different when the defendant produces marijuana for medical purposes.
A defendant may grow up to six mature cannabis plants and 12 immature cannabis plants in medical need. However, defendants must provide a valid prescription from a registered doctor.
Adults who breach this will be imprisoned for six months and fined $500. If the person accused of unauthorized cultivation is a minor, they will receive an infraction rather than a misdemeanor. An infraction is penalized by community service and a fine of $100.
SELLING MARIJUANA TO A MINOR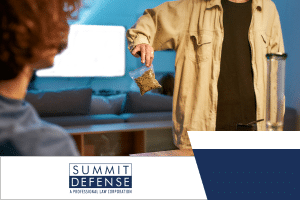 California's Health and Safety Code 11361 makes it a criminal act to sell or trade marijuana with a minor. The mentioned law states that any adults who sell, give, or offer marijuana to an underaged minor violate the law and be punished for their irresponsible actions.
Breaching this legislation results in a felony offense. In most cases, the punishment for this offense is imprisonment for a maximum of seven years in state prison.
However, suppose the convicted adult gave or sold marijuana to a minor aged 14 years old. In that case, their prison sentence is only for a maximum of five years.
POSSESSION OF METHAMPHETAMINE
California state law states that possessing methamphetamines without a permit violates Health and Safety Code 11377(a). According to the legislation of simple possession, owning illegal methamphetamine is a misdemeanor offense in California. Individuals found in possession of meth face a year in prison and a maximum fine of $1,000.
POSSESSION OF METHAMPHETAMINE FOR SALE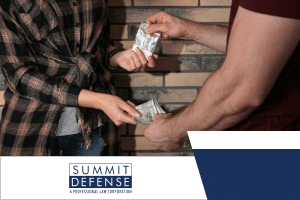 Under California's state law, Health and Safety Code 11378 provides the definition and penalty for methamphetamine sale. Unlike simple possession, possessing meth with an intent to sell is a grave violation of this law. Because of this, the state recognizes this criminal act as a felony offense. Unlawfully selling meth is punishable with three years of maximum imprisonment.
COUNTERFEIT PRESCRIPTION BLANK
Under California's Health and Safety Code 11162.5, counterfeiting or faking a prescription blank is a violation of the law. Moreover, the law also states that knowingly owning a counterfeited prescription is a criminal offense.
Counterfeit prescription blank is a wobbler offense in California. A convicted defendant will serve one year of a prison sentence as a misdemeanor. In contrast, a felony offense is punishable with three years prison sentence.
FORGING A PRESCRIPTION FOR NARCOTICS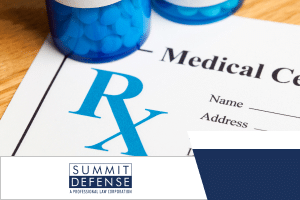 Health and Safety Code 11368 of California law shares some similarities with the Business and Professions Code 4324. Both legal codes address the improper forging of prescriptions to obtain controlled substances. However, 11368 HS specifically targets the forging of prescriptions to obtain illegal narcotics.
Violation of 11368 HS is a wobbler offense in the state. A misdemeanor offense carries a maximum prison sentence of one year, while a felony offense is up to 3 years.
OPERATING A DRUG HOUSE
The Health and Safety Code 11366 makes it illegal for anybody to operate or maintain a 'drug house.' The law classifies this as a wobbler violation. The prosecutor will look at the crime facts before appointing an offense level.
If convicted of a misdemeanor, the offender faces one year in prison and a maximum fine of $1,000. A felony offense, on the other hand, is punishable by up to three years in jail and a maximum punishment of $10,000.
UNDER THE INFLUENCE OF A CONTROLLED SUBSTANCE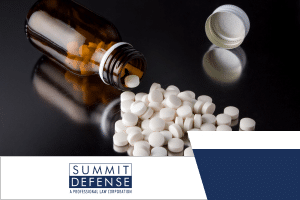 California Health and Safety Code 11550 forbids the use of restricted medicines, including opioids. According to California law, breaching this law is a misdemeanor violation. If the defendant breaks the law, they will serve a year in county jail. Depending on the circumstances, you might be able to get your sentence reduced from prison to a diversion program.
LEGAL DEFENSES AGAINST A DRUG CRIMES CHARGE IN REDWOOD CITY, CA
The prosecutor will rely on the proof recovered by law enforcement officers and the arguments of your Redwood City drug crimes attorney. If all goes well, your charges can be reduced or altogether removed. Because of this, hiring an efficient criminal defense attorney is highly critical.
At Summit Defense, here are some legal defenses we use with our former clients:
Lack of ownership. A defendant may be arrested for drug possession even though they do not own the unlawful substance personally. Your Redwood City drug defense attorney can assist you in gathering evidence to back up this claim.
You were unaware that you held an illegal drug. In some circumstances, the valid owner of the illegal drug will conceal their drugs in your possession. Your Redwood City drug lawyer will assist you in identifying the correct person and bringing justice to your name.
The arrest was illegal. It is not uncommon for police enforcement to arrest you without probable cause. When you believe this is your situation, your Redwood city drug criminal lawyer can assist you in proving that the police conducted an unjust arrest.
WHY CHOOSE SUMMIT DEFENSE FOR YOUR REDWOOD CITY DRUG CRIME CHARGES?
Summit Defense has over 120 years of professional experience and a solid grasp of California criminal defense legislation. Our team of attorneys at Summit Defense is experienced in representing clients in necessary trials. We will go to any length to provide the greatest possible outcome for you!
Super Lawyers has also recognized us as a leading California criminal defense law firm for four years in a row. We've also been nominated for a Preeminent Lawyer award and an Avvo Clients' Choice Award.
Our panel of esteemed attorneys is a former district attorney and a former deputy public defender. We can successfully defend our clients because of our rich background, for we have been on both sides of the court.
CONTACT SUMMIT DEFENSE TO SPEAK WITH A REDWOOD CITY DRUG CRIMES LAWYER FOR A FREE CONSULTATION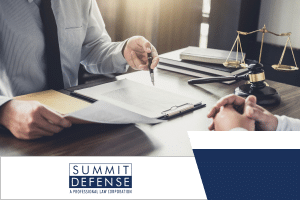 Contact our Redwood City criminal defense lawyer immediately if you face a misdemeanor or felony charge for drug crimes. Drug crimes are complex cases as it involves numerous state and federal laws. Our Redwood City drug defense lawyers have extensive years of proven experience.
You can reach our Redwood City law office by calling (650) 667-4141. We serve Californians from all over the state, from San Francisco to Redwood City. Summit Defense got you!