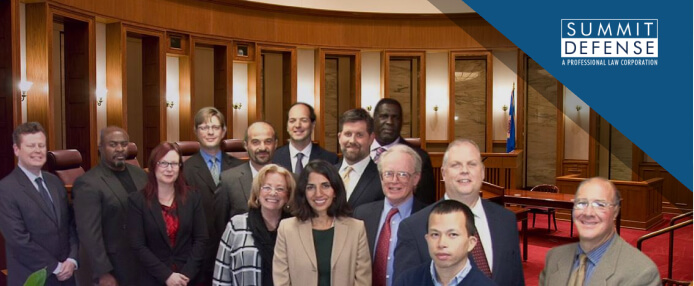 Drunk driving is an irresponsible act that puts a lot of lives in danger. Because of the dangers it brings, California has established several laws to protect its citizens from drunk drivers. However, certain events occur when a driver is wrongfully accused of DUI.
In cases when a DUI is wrongfully bestowed on a responsible driver, they carry the burden of proving their innocence. This is where a Pleasanton DUI lawyer can help you. At Summit Defense, our experienced DUI lawyer is proficient in all aspects of criminal defense. Drunk driving is an irresponsible act that puts a lot of lives in danger. Because of the dangers it brings, California has established several laws to protect its citizens from drunk drivers. However, certain events occur when a driver is wrongfully accused of DUI.
We have extensive experience handling DUI convictions. Our wealth of experience and knowledge can help you reduce or even remove your DUI charges. Contact Summit Defense now for a free consultation if you greatly need expert legal representation!
EXPERIENCED PLEASANTON DUI LAWYERS AT SUMMIT DEFENSE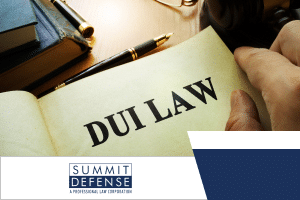 Summit Defense lawyers garnered over 120 years of professional experience. In addition, our proficient Pleasanton DUI lawyers have a solid understanding of California criminal defense legislation. Summit Defense DUI lawyers are relentless in helping clients.
Our Pleasanton criminal defense lawyers will go to any length to ensure the greatest possible outcome for you! Our Pleasanton attorneys are more than willing to represent you in a trial if deemed necessary by the court.
SuperLawyers also recognized our top-rated criminal defense law firm for four consecutive years. Moreover, we've also been nominated for a Preeminent Lawyer award and an Avvo Clients' Choice Award. Our panel of esteemed lawyers is composed of ex-prosecutors and former police officers. This rich diversity in the professional background provides us with an efficient solution for your case.
TYPES OF DUI CHARGES IN PLEASANTON, CALIFORNIA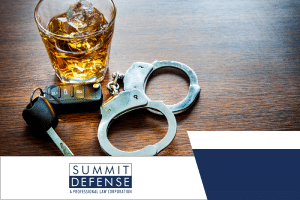 California DUI laws are vast and complicated. It might be tricky for you to understand the legalities surrounding your case. Employing the help of Pleasanton DUI defense lawyers is the best course of action to take. To further understand these legal statutes, we rounded up the list below for your reference:
FIRST DUI OFFENSE
A DUI violation in Pleasanton, CA has a minimum fine of $390. However, if additional penalties and charges are added, the total penalty cost might be around $1,800. Convicted defendants are imprisoned for up to six months for this level of violation. Vehicle Code Sections 23152(a) and 23152(b) provide the context for this offense.
Furthermore, the court has the authority to suspend for 90 days or four months. Several factors identify the length of your driver's license suspension. In addition, you will also be mandated to participate in a three-month alcohol treatment program.
WET RECKLESS DRIVING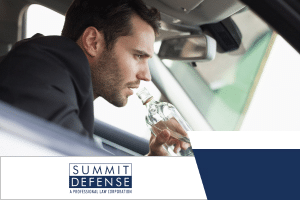 After being arrested for a DUI, the District Attorney's Office may sometimes recommend a charge reduction. Often, the prosecutor will reduce the charge to wet reckless driving. A wet reckless driving is more commonly known as reckless driving with alcohol involvement.
In this situation, Vehicle Code 23152(a) and (b) can be substituted for Vehicle Code 23103.5. There are no mandatory jail sentences if you plead guilty to wet reckless driving. Furthermore, your probation sentence, DUI school, and fines are typically lowered.
There is also no requirement for a driver's license suspension. However, you must keep in mind that it will count as a full DUI if you commit another DUI within the next ten years.
SECOND DUI OFFENSE
If you committed a second DUI offense within ten years of your first one, the consequences are much more significant. You will be imprisoned for a maximum of one year. This imprisonment period is significantly longer than the standard sentence for a first offense.
You must also finish an 18-month alcohol recovery program at your own expense. If you get a second DUI, the court will order you to incorporate an ignition interlock device into your vehicle. Moreover, your license will be suspended for one year. You will also be granted limited driving rights for two years.
THIRD DUI OFFENSE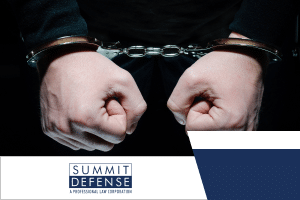 Suppose you committed DUI for the third time within ten years of your first one. These repeated instances will propel your case to a third offense. For a third DUI offense, you might face fines of up to $18,000 per offense.
Furthermore, a third offense usually carries a mandatory one-year prison sentence. In addition, violators must pay for a 30-month alcohol program, which costs around $1,800. The prosecutor may also revoke your license if you commit this offense level.
FOURTH DUI OFFENSE
The first two DUI offenses within ten years from the date of the first DUI are misdemeanors. However, the offense can be a misdemeanor or a felony for the third and fourth instances. A defendant's offense level depends on whether they injured another person from their reckless action.
The fourth instance of DUI is punishable by up to three years of imprisonment. The convicted defendant will also have to pay a maximum of $1,000 for penalty fines. In addition, they will have to serve a maximum of 30 months in DUI school along with four-year license revocation.
FELONY DUI OFFENSE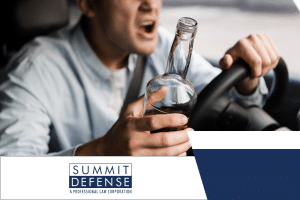 In California, driving under the influence can be prosecuted as a felony in the following situations:
A DUI defendant committed a fourth DUI offense within ten years from the first conviction.
A DUI defendant has a previous felony DUI conviction
A DUI defendant caused an accident where another person was severely hurt or killed.
A defendant charged with a felony DUI involving injury or death can result in a minimum of 180 days in jail. In addition, they also have to pay $3,000 or more in fines, penalties, and assessments.
Convicted defendants will also receive a four-year driving license revocation and a mandatory DUI school attendance. Furthermore, a felony conviction will be recorded on their record. The defendant will also have to shoulder the victim's medical expenses for their personal injury.
COMMERCIAL DUI OFFENSE
Those with commercial driver's licenses (Class A, Class B) may face severe consequences if caught for DUI. A first commercial DUI differs from a "normal" first DUI. A first commercial DUI has a lower blood alcohol concentration threshold. Still, it carries much greater sanctions than the other one.
Section 23152(d) of the California Vehicle Code states that a commercial driver can be arrested for DUI if their BAC is 0.4% or higher. The penalties are the same as for a first DUI. However, a commercial driver may lose their business license for a minimum of one year.
UNDERAGE 21 DUI OFFENSE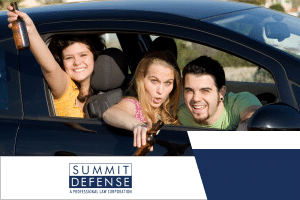 According to Section 23136 of the California Vehicle Code, underaged DUI defendants can be arrested if their BAC level is 0.01% or higher. Because the driver is below the legal age, DUI defendants under 21 years old have a lower BAC threshold. Underaged defendants will face additional penalties for their convictions.
The prosecutor can charge this violation along with Vehicle Codes 23152 and 23140. Since they are minors, even if the bottle of alcohol is sealed, they can be charged with alcohol possession. Penalties for underage DUI include a one-year suspension of driver's license. The minor motorist may also face additional jail time, fines, probation, and obligatory DUI school, depending on their BAC.
DUI PENALTIES IN PLEASANTON, CALIFORNIA
A DUI arrest can result in various penalties. Aside from long years of imprisonment and hefty penalty fines, a DUI defendant may face additional penalties. Factors such as the number of DUIs committed within ten years and other aggravating factors can magnify your DUI penalties.
Defending your legal rights in this situation can be tricky. Your driver's license might get revoked or suspended if you receive a DUI charge. Furthermore, it will also reflect on your criminal record similar to other criminal charges. In this crucial situation, you will need to employ the help of our DUI defense attorneys.
At Summit Defense, our law offices are scattered throughout California. We will help you from the initial case investigation to the DMV hearing. Even if the court resorts to a trial for your case, Summit Defense criminal defense lawyers got your back!
WHY DO YOU NEED TO HIRE A PLEASANTON DUI DEFENSE LAWYER?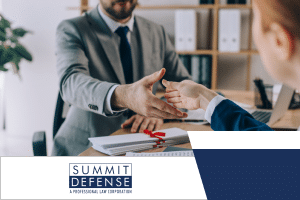 As established above, DUI arrests are not easily defended. Summit Defense's DUI lawyers have extensive experience defending clients in various DUI cases. We can help attain the best possible outcome for your case through our joint effort. Here are some examples of what our Pleasanton criminal law office can do for you:
Detailed case analysis. The circumstances of your case determine the weight of your DUI penalties. Our Pleasanton attorneys will investigate the nature of your case and other factors that may be relevant to your case. We want to look into every element of your narrative to provide a compelling case.
We can help you gather the necessary evidence. In most cases, a driver is often at a disadvantage due to a lack of resources. Our private attorneys will gather any proof that would help prove your innocence.
We can represent your case effectively. DUI legislation is complicated and constantly evolving. You'll need a Pleasanton DWI lawyer who knows how to navigate the California court system.
COMMON LEGAL DEFENSES AGAINST DUI CHARGES IN PLEASANTON, CA
There are several ways your party can use to protect yourself from false DUI convictions. Some popular legal defenses that your Pleasanton DUI lawyer can employ to assist you are as follows:
The officer made an improper arrest. If you believe that the police officer made an improper arrest, your party can argue this. Your party can recover evidence in line with your defense.
The officer lacks evidence to arrest you. You can bring this argument forward if you believe that the proof is insufficient to condemn you. Your Pleasanton DUI defense attorney can help you prove this point by pointing out the other party's argument flaws.
You have a rising BAC level. The alcohol concentration level in your body increases between the time you are tested and arrested. Therefore, your Pleasanton DUI lawyer can contest the accuracy of the breath test.
TOP DUI LAWYERS NEAR ME | CONTACT SUMMIT DEFENSE TO SPEAK TO A PLEASANTON DUI ATTORNEY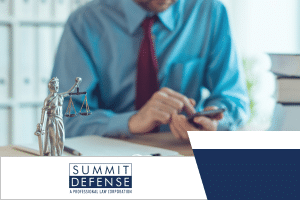 DUI cases are taken seriously in the state of California. Contact Summit Defense right away for free consultations if you need professional legal representation!
Our Pleasanton criminal defense lawyers have a proven track record protecting clients from false criminal offenses. For a free consultation, you can reach Summit Defense by phone at (925) 218-4730 or complete our online form.
PLEASANTON COURT INFORMATION
East County Hall of Justice
5151 Gleason Dr, Dublin, CA
Cases Handled:
This is one of several courthouses throughout Alameda County. As of June 21, 2017, the court location for all in custody arraignments will be , CA 94568 across from the Santa Rita Jail.
‍
Phone:
925-227-6700
Criminal Court Calendar
You can find information about your case online, up to five days in advance on
this calendar.
You can also call the clerk's office between the hours of 8.30am and 2.30pm on (925) 227-6796.
PLEASANTON JAIL INFORMATION
The Alameda County Sheriff's Department runs the Santa Rita Jail, and sets the rules for all visits and other contact with inmates.
Santa Rita Jail
Most people arrested in Pleasanton are taken to this facility on Broder Blvd. in Dublin. This jail houses both men and women, and both pre-trial and sentenced inmates.

Glenn Dyer Jail (GDJ)
This jail is in Oakland and houses exclusively male inmates. It's rare that someone arrested in Pleasanton will be taken here.
Both the GDJ and the Santa Rita Jail are under the control of the Alameda County Sheriff's Office. To find out which jail someone is being held at, you can search for inmate information online here, or call the GDJ on (510) 268-7777.
Driving Directions to Summit Defense's Office in Pleasanton
From West (Castro Valley)